Tonga's King Tupou VI has been evacuated by a convoy of police and military troops, according local news reports, after a tsunami warning stretching as far as Australia was issued after a major eruption.
The Bureau of Meteorology (BoM) has issued a tsunami warning for parts of Australia's east coast including Queensland, New South Wales, Victoria and Tasmania — as well as Lord Howe, Norfolk and Macquarie islands.
The Hunga Tonga-Hunga Ha'apai volcano near Tonga erupted at 3.10pm AEDT on Saturday and tsunami waves have already been observed.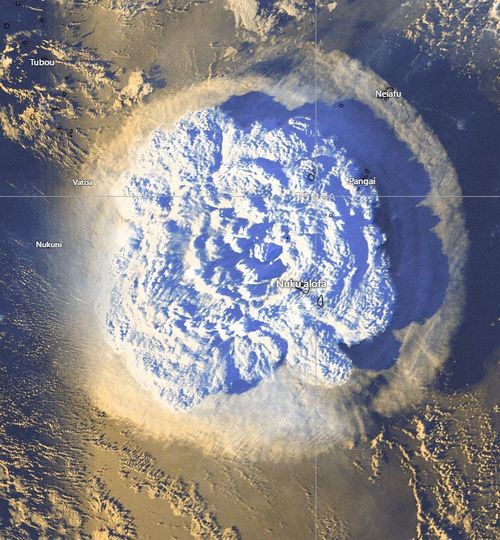 "The size of these waves means the threat is for the marine environment for the east coast of Australia, and for land on Lord Howe Island and Norfolk Island; however the situation will be closely monitored and warnings updated as required," the BoM said.
"People in land warning zones are strongly advised to move 1 kilometre inland or go to high ground at least 10 metres above sea level."
Evacuations are not necessary for marine warning zones, but people are advised to leave the water and move away from the immediate water's edge, the bureau said.
"Tsunami waves are more powerful than the same size beach waves. There will be many waves and the first wave may not be the largest."
Tonga feels first effects
Powerful waves have been seen hitting the shores of the Pacific nation as satellite footage showed the Hunga-Tonga-Hunga-Ha'apai
volcano
erupting.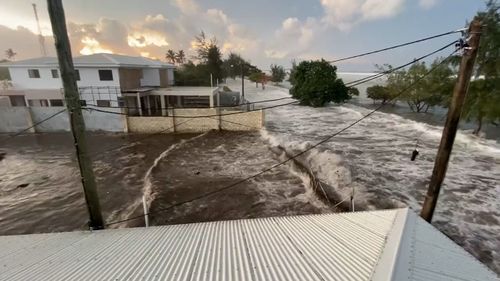 The Matangi Tonga news site reported scientists had observed massive explosions, thunder and lightning near the volcano after it started erupting.
The site said satellite images showed a five-kilometre plume of ash, steam and gas rising into the air to about 20 kilometres.
King Tupou VI was among the many residents who headed for higher ground following the eruption.
The Tonga Meteorological Services said a tsunami warning had been put in force for all of Tonga.
A Twitter user identified as Dr Faka'iloatonga Taumoefolau posted video showing waves crashing ashore.
"Can literally hear the volcano eruption, sounds pretty violent," he wrote.
"Raining ash and tiny pebbles, darkness blanketing the sky," he said in a later post.
According to the US Emergency Alert Twitter page, a "hazardous tsunami" had been created by the eruption, and a tsunami warning had been issued for American Samoa as well.
The US StormWatch account, meanwhile, described the eruption as "one of the most violent" ever captured on satellite.
Fijian TV reporter Jese Tuisinu said on Twitter at 6.40pm (4.40pm AEDT) that Tonga was "literally dark", sharing a video that showed people trying to reach safe ground.
Australia, New Zealand on high alert
Australian authorities are keeping an eye on the situation.
"Tonga is part of our Pacific family and our thoughts are with the entire community dealing with the impact of the volcanic eruption and tsunami," the government said in a statement on Saturday night.
"The Prime Minister and Minister for Foreign Affairs are monitoring the situation and Australia stands ready to provide support to Tonga if requested.
"Initial assessments are still underway and DFAT is working to ensure Australians in Tonga are safe and accounted for.
"Any Australians concerned about people in Tonga should contact DFAT on 1300 555 135 or +61 2 6261 3305."
An emergency warning has also been issued in Fiji.
In a statement Fiji's Ministerial Resources Department advised people to stay out of the water and off the shore, particularly residents living in low lying coastal areas.
In New Zealand, officials were warning of storm surges from the eruption.
The National Emergency Management Agency said some parts of New Zealand could expect "strong and unusual currents and unpredictable surges at the shore following a large volcanic eruption."
New Zealand's military has also said it was monitoring the situation and remained on standby, ready to help if asked.
Source: 9News