Share this @internewscast.com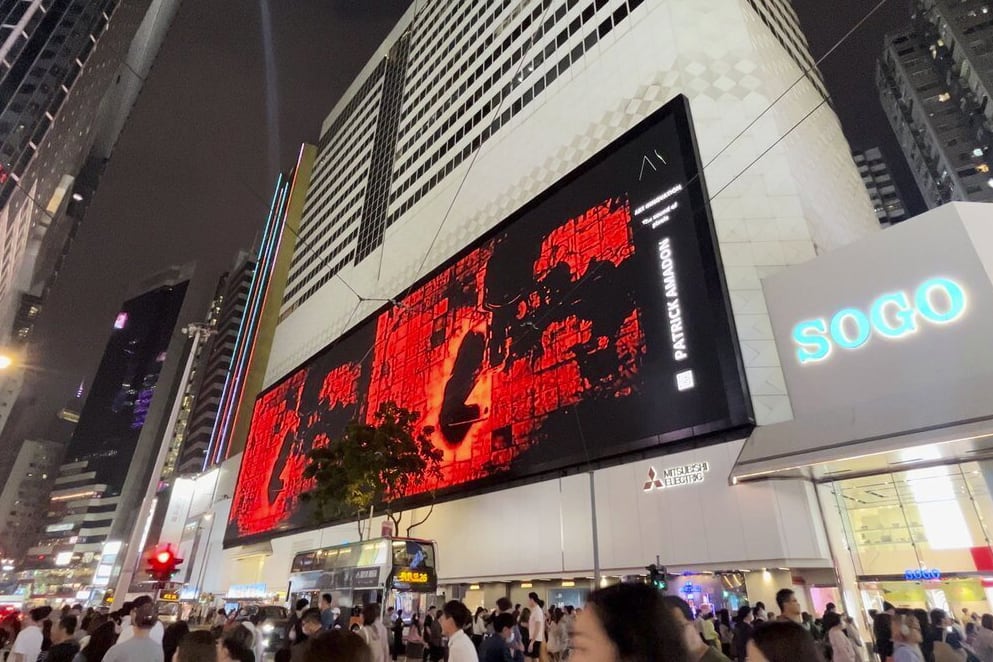 HONG KONG — An American artist says the removal of his covert tribute to local dissidents from the side of a department store in Hong Kong illustrates the shrinking space for free expression in the Chinese territory.
The digital artwork "No Rioters," by Los Angeles-based artist Patrick Amadon, makes covert references to jailed pro-democracy protesters. It was one of several pieces to appear on a billboard outside the Sogo department store in the popular Causeway Bay shopping district during Hong Kong Art Week, but was removed this week after the deception was revealed.
The red-and-black video installation flashes the names and prison sentences of convicted protesters, including prominent figures such as former law professor Benny Tai, in text that couldn't be seen by the naked eye.
Hong Kong, a former British colony that was promised 50 years of continued rights and freedoms when it returned to Chinese rule in 1997, was roiled by months of antigovernment protests in 2019 that sometimes turned violent. Beijing responded the following year by imposing a sweeping national security law that it said was necessary to restore stability.
Critics say authorities have used the law to crack down on civil liberties, and that it has also encouraged self-censorship. Earlier this week, local screenings of a British horror film featuring Winnie the Pooh, a character whose lighthearted association with Chinese President Xi Jinping mainland authorities have tried to suppress, were canceled without explanation.
The artwork's removal also comes as Hong Kong tries to revive its international reputation with events like Art Week, which is headlined by Art Central and the Asia edition of Art Basel.
Amadon said he had paid close attention to the 2019 protests, and that he was commenting on the movement as well as Art Week and "the willful blindness of a lot of the world."
"I wanted to honor the protesters," he told NBC News in an interview. "I wanted to show solidarity with the sacrifices that they made."
More than 10,000 people have been arrested in connection with the 2019 unrest, and more than 200 under the national security law, which can lead to a sentence of up to life imprisonment. Demonstrators have objected to government descriptions of them as "rioters," a crime that under Hong Kong law is punishable by up to 10 years in prison.
Amadon said he received a message earlier this week from Art Innovation Gallery, which organized the installation, saying they needed to speak urgently.
He said he was told that Sogo had removed the artwork "because they had been threatened with heavy fines and legal action" and that the gallery, which is based in Italy, was also concerned about legal ramifications.
It is not clear whether the government was involved in the decision to remove the artwork. The Hong Kong police did not respond to a request for comment, while the Culture, Sports and Tourism Bureau told NBC News it had not contacted Sogo about the matter.
Sogo and Art Innovation Gallery did not immediately respond to requests for comment.
Francesca Boffetti, the gallery's chief executive, told The Associated Press she did not know whether the government had ordered the work be taken down and that there had been no mention of any law or potential fines.
"Our intermediary told us that the owners of Sogo were concerned about the sensitive political content hidden behind Patrick's work, so they decided to remove the work from the exhibition immediately," she told the news agency in an email.
Amadon said he was surprised the work, which also includes a panning surveillance camera, went up to begin with. Though the protesters' details appear too quickly to be seen by the naked eye, he said they could be captured by high-speed cameras.
"I was happy to see that it had a longer run than I expected it to have," said Amadon, who did not tell the gallery about the hidden messages beforehand.
The exhibition, "The Sound of Pixels," began March 17 and ended on Thursday.
In a way, Amadon said, the removal helped "complete the work."
In the Hong Kong of a few years ago, "putting up this art piece would have been a perfectly legal and free expression," he said.
"The very fact that it was taken down today objectively shows you that freedoms of expression and speech have been eroded."
The Associated Press contributed.
Share this @internewscast.com