Share this @internewscast.com
The Chinese spy balloon might be down, but the diplomatic temperature continued to rise Sunday as officials in Beijing blasted the U.S. decision to shoot it out of the sky. 
Describing it as "a clear overreaction," Tan Kefei, a spokesperson for China's Defense Ministry, said in a statement Sunday that his country reserved "the right to use necessary means to deal with similar situations." In a similarly strongly worded statement, China's Foreign Ministry said it was "a serious violation of international customary practice." 
Both statements described the balloon as a "civilian unmanned airship," and China had previously said the orb was used for research and "meteorological purposes."
The statements came after an American F-22 raptor shot down what the Pentagon called a "high-altitude surveillance balloon," with a single missile off the coast of South Carolina on Saturday afternoon. The U.S. military will now focus on salvaging parts of the craft from a debris field that spans about 7 nautical miles. 
First spotted over Montana, which is home to Malmstrom Air Force Base, the site of one of America's three nuclear missile silo fields, the massive white orb, which is about the size of three school buses, headed southeastward over Kansas and Missouri at around 60,000 to 65,000 feet. 
Shortly after the strike, President Joe Biden told reporters he had made the order to shoot it down after he was briefed about it Wednesday but the Pentagon "decided that the best time to do that was when it got over water."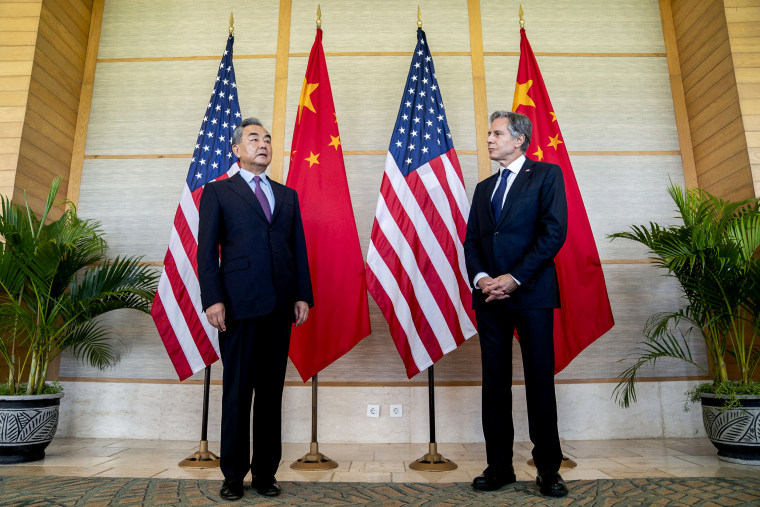 While he described the Chinese suggestions of further action as "ominous," David Sacks, a research fellow in U.S-China diplomacy at the nonpartisan Council on Foreign Relations think tank, said he doubted it had done much to alter relations between the two countries.
"They will issue a statement with a little bluster in it, but I don't think that China is going to try to respond in any way," he said, adding that escalating the issue with the U.S. would be of little benefit to China.
Beijing would not have wanted Secretary of State Antony Blinken to postpone his visit to China, which was scheduled to start Monday, Sacks said. 
Blinken said Friday he had told senior Chinese diplomat Wang Yi in a phone call that sending the balloon over the U.S. was "an irresponsible act" that was "detrimental to the substantive discussions that we were prepared to have." His visit to China would have been the first by a U.S. secretary of state since 2018. 
While some on Chinese social media mocked the U.S. decision to shoot down the balloon, others expressed anger. Some of the more hawkish news outlets criticized the move, and the state-run Global Times newspaper called it "an obvious overreaction." 
Several commentators also questioned the decision, while Jin Canrong, a specialist on Sino-U.S. relations at Beijing's Renmin University of China, questioned the decision to postpone Blinken's visit.   
In a post on the Chinese microblogging site Weibo, he said there had been opposition to the trip inside the U.S., particularly from Republican lawmakers.   
"It should be said that Blinken's visit to China itself is not a bad thing, but the atmosphere is not good,," he said, adding that the U.S. always liked to "create a little bargaining chip for themselves" before high-level meetings between the two countries "to force the Chinese side to give in."     
"This does not work. The Chinese side has long stopped buying this," he added.
Rescheduling the trip could prove problematic for the Biden administration "until China provides a more convincing and fulsome explanation regarding these latest espionage allegations," Craig Singleton, a senior China fellow at the Foundation for Defense of Democracies, a Washington, D.C., think tank and lobbying organization, said Saturday before the balloon was shot down.  
"Expectations were generally low that Blinken's trip would result in any diplomatic deliverables and, at this point, a meaningful reset between the two superpowers appears all but off the table," he said.
Share this @internewscast.com