Manhattan DA probing Trump received death threat letter with white powder
Share this @internewscast.com
The FBI and NYPD are investigating a letter containing a death threat and white powder that was mailed to Manhattan District Attorney Alvin Bragg, whose office is investigating former President Donald Trump, law-enforcement sources told NBC News.
The letter was addressed to Bragg and said, ""ALVIN: I AM GOING TO KILL YOU!!!!!!!!!!!!!" the sources said. It contained a small amount of white powder.
There were no evacuations or injuries, officials said.
In a statement, the DA's office said the letter "was immediately contained and that the NYPD Emergency Service Unit and the NYC Department of Environmental Protection determined there was no dangerous substance."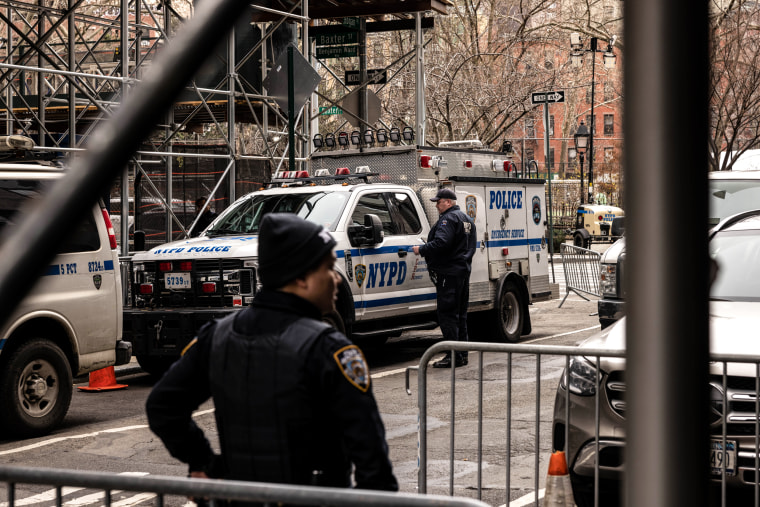 Markings on the envelope indicate it was mailed from Orlando, Florida earlier this week, the sources said. It was postmarked on Tuesday, the sources said.
The letter comes in the wake of Trump announcing — falsely — that he would be arrested in the probe this past Tuesday and that people should "protest." His rhetoric has become more heated in the days since, including warning on his social media website early Friday of "potential death and destruction" if the DA indicts him.
An indictment in the case could come down as soon as next week, as there are indications the investigation is in its final stages. NBC News reported last week that law enforcement officials had already begun preparing security precautions in the event of a possible indictment in discussions that include the NYPD, New York State Court Officers, the U.S. Secret Service, the FBI's Joint Terrorism Task Force and the DA's office.
Share this @internewscast.com