Share this @internewscast.com
Are Tyson Ritter And John Ritter Related? Tyson Ritter, the handsome and talented actor, captured the hearts of audiences with his incredible performance in the 2008 film "The House Bunny." Recently, he gained global recognition for his role in the latest 2023 film "Johnny & Clyde," alongside the gorgeous Megan Fox.
Tyson Jay Ritter, or simply Tyson Ritter, has won over audiences with his multitude of talents. Apart from being a popular actor in Hollywood, he is also renowned as the lead vocalist and bassist of The All-American Rejects. His musical abilities extend to playing multiple instruments, including the bass guitar and piano, while his vocals are widely admired.
In addition to his musical pursuits, Tyson Ritter has ventured into the world of film. He made notable appearances in films such as the 2015 release "Miss You Already." Furthermore, he has showcased his acting skills in various television projects, including "Preacher" (2016-2019) and "Parenthood" (2010-2015).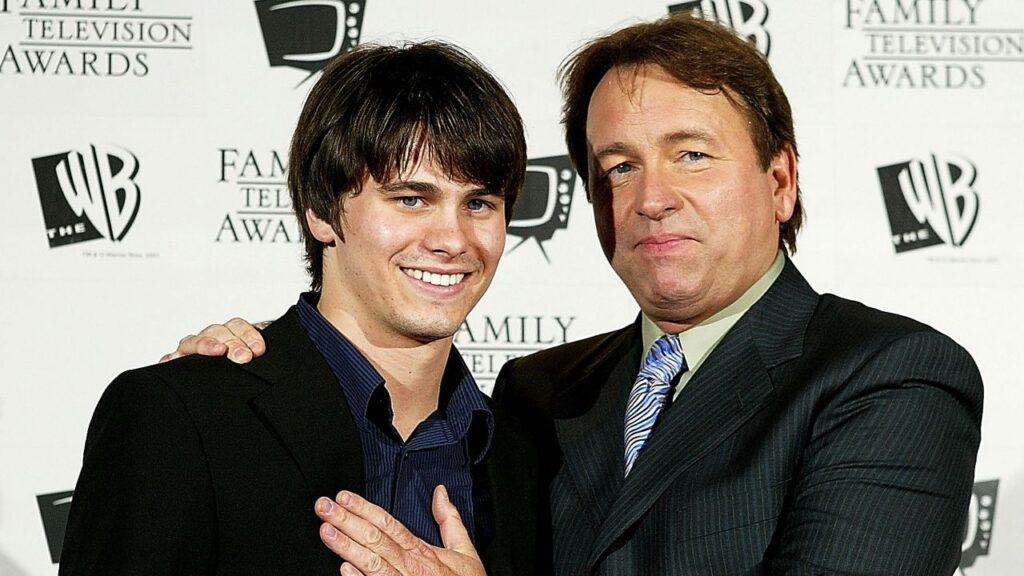 Born and raised in Stillwater, Oklahoma, United States, Tyson Ritter grew up in a loving and supportive family environment. Fans were thrilled to see their favorite singer take on a role in the family drama genre. His diverse talents, including his impressive acting abilities, have garnered significant attention from the public.
In this article, we will explore lesser-known facts about Tyson Ritter's family heritage, shedding light on his background and origins.
Are Tyson Ritter And John Ritter Related?
Contrary to speculation, Tyson Ritter, the star of "Johnny & Clyde," is not related to John Ritter, known for his role in "Three's Company." Despite sharing the same surname and being prominent actors, the two individuals have no familial connection.
Tyson Ritter was born on April 24, 1984, to parents Tim Ritter and Tracey Rains. On the other hand, Johnathan Southworth Ritter, commonly known as John Ritter, was born on September 17, 1948, to Tex Ritter and Dorothy Fay. The similarity in their surnames often leads to confusion among people.
Both actors hail from the United States, with Tyson originating from Stillwater, Oklahoma, and John from Burbank, California. Unfortunately, John Ritter passed away on September 11, 2003, at his residence.
Tyson Ritter, compared to the late veteran actor John Ritter, is relatively new to the acting scene but has already established himself as one of the finest actors in Hollywood. John Ritter gained widespread recognition for his portrayal of Jack Tripper on the ABC sitcom "Three's Company" and received prestigious accolades such as the Primetime Emmy Award and a Golden Globe Award.
In 1996, John Ritter divorced his wife Nancy Morgan. From his marriage, he has four children: Jason Ritter, Tyler Ritter, Noah Ritter, and Carly Ritter.
While John Ritter and Tyson Ritter are not related, they both represent the same nation and have made names for themselves in the acting industry, albeit in different genres. John, as a seasoned veteran, has left a significant mark on the industry, while Tyson is a rising talent.
Both actors have enjoyed successful careers. Tyson Ritter, for instance, is set to star in the upcoming 2023 film "Johnny & Clyde," alongside the stunning Megan Fox. Their contributions to the world of acting have garnered attention and acclaim.
Who Are Tyson Ritter Parents And Family?
Tyson Ritter, the actor, was born on April 24, 1984, to Tim Ritter and Tracey Rains. Sources indicate that his parents resided in Stillwater, Oklahoma. They played a significant role in shaping their son's music and acting career, contributing to his success in both fields.
The actor exudes confidence in his music and film career. His father, Tim, worked as a professional mechanic, while his mother was a teacher at Stillwater Secondary School.
Tyson Ritter's parents have three children, making him the sibling of Zack Ritter and Bailey Ritter.
The talented singer, known for his hit "Hurricane," maintains a close bond with his family. Sources indicate that Ritter's parents wholeheartedly support his pursuits in music and acting. It is evident that his family serves as a strong support system, playing a crucial role in his accomplishments and success.
Continue to check our website (buggingquestions.com) for more articles of this kind. And, please use our comment section as well, we would love to hear from you.
Share this @internewscast.com