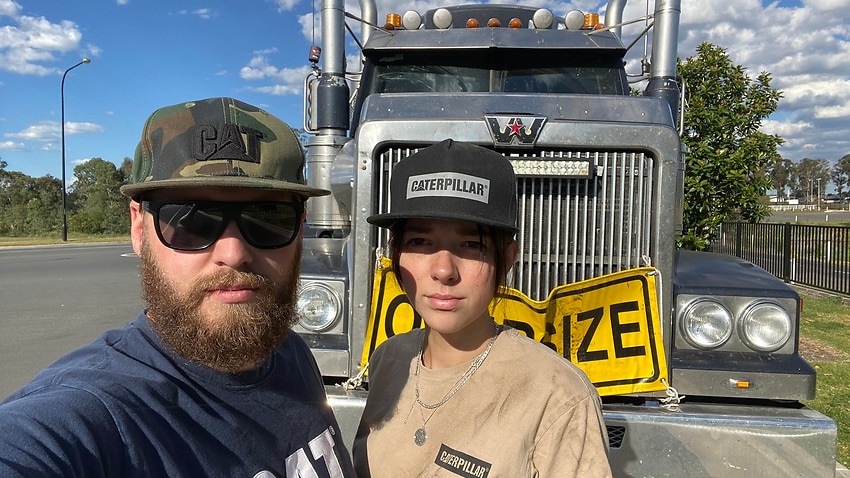 Jake Thompson and Kira Vanags know all about isolation.
The couple has lived on the road full time since 2018 in their truck that Jake drives up and down Australia's east coast delivering agriculture and plane equipment.
"We gave up our own house, we put everything in storage. We've got our two bags and the shirts on our back and the steel horse we ride," says Jake, who is originally from South West Sydney.
"Considering where we came from – having a house and my brother coming around all the time – to then all of a sudden jumping in the truck and being on the road, the lifestyle, it's chalk and cheese," he says.
Jake, 30, and Kira, 22, had grown accustomed to the loneliness that life on the road brings. They often drive for 11 to 12 hours a day up to six times a week in their Western Star 4900 truck, towing a 45ft drop deck trailer.
But when COVID-19 struck and Australia went into lockdown, even though they had each other, it was tough not having the chance to connect with others, which was usually easy to do in truckstops.
"Australians are naturally fun and kind to everyone. It's not even just our friends, everyone wants to have a big chinwag," Jake says.
"Everyone is itching to get out and have a chat but they can't because of COVID-19 and it can get really lonely. I mean for us, we speak to each other for a couple of hours on a trip to Brisbane, but we like to see other people."
Kira says COVID-19 also began to affect their mental health.
"It gets hard when we're out bush for a couple of days. Although we have each other to talk to, you can't talk to anyone else when there's no reception," she says.
It also impacted them in other ways.
"It got really hard for us to find fresh food as everyone was panic buying," Kira says. "We had to always have tuna cans in so we could have something to eat at night."
For Jake, as a self-described anxious person, he found it difficult to go into public places.
"Being at a truck stop, you wanted to be cautious. I was concerned about going into a place and thinking where every other trucker had been," he says. "I have a fear of getting sick and coronavirus tipped me over the edge. I had to go see my psychiatrist and she gave me medication. It completely changed everything and it brought me back to who I was before."
Jake and Kira often won't see someone they know for weeks at a time, but coronavirus further isolated them from friends amid concerns they would have a high chance of carrying the virus because of their travels between states.
"One friend in Queensland told us that he didn't really want to come out and meet us and wanted to wait until coronavirus calmed down. And because of that, we missed his daughter's birthday," Jake says.
A Swinburne University of Technology survey of more than 2,500 Australians, released in July, found 50 per cent of respondents reported feeling more lonely since COVID-19 began.
Dr Grant Blashki, lead clinical advisor for mental health charity Beyond Blue, says loneliness and isolation can lead to mental health issues such as depression.
"I always get surprised as a GP at how many lonely and disconnected people there are," he says. "Many Australians are doing it tough at the moment, particularly people living on their own. That's a lot of hours every day to be in your home by yourself."
In April, as the pandemic took hold, loneliness became the most commonly reported COVID-19 stress – greater than financial concerns – according to the Australian Bureau of Statistics. It was impacting 28 per cent of women and 16 per cent of men. Meanwhile, young people were found to be the most impacted age group, according to research by social-impact measurement startup Socialsuite.
Dr Blashki suggests young people try to use time on their own wisely and make steps towards preparing for their future.
"Fix up your CV, learn a new trade, build a website, learn a new hobby," he says. "Use this time in a proactive way because we know that a sense of purpose is really important for our mental health."
For those feeling isolated, Dr Blashki advises reaching out to friends and family, even if you can't physically be with them.
"It's important to be explicit to family and friends and say, 'I need you to ring me every morning'. Fill up your diary, you don't really want a situation where you have no plans for the day."
For Jake, he swears by calling people he knows to pass the hours alone on the road.
"I'll speak to three of my brothers and friends all day long and into the night. There are those times that you really miss people," he says.
"I think that's why we started our social media, so we could share what we are doing because we never see them."
[embedded content]
Jake and Kira run a YouTube channel, JK Truck Adventures, and an Instagram account, documenting their everyday life on the road. It includes everything from their truck breakdowns to cooking gnocchi on a gas burner in the trailer.
Kira says running the social media accounts keep them connected with friends and family, who without their social media, they'd struggle to stay so close with.
"For the trucking community, the online presence has been great," she says.
"We've met everyone through our social media. It's great chatting to them [virtually] and seeing how they are. It's nice to have that connection as it can be really lonely in this industry."
Readers seeking support can contact Lifeline crisis support on 13 11 14, Suicide Call Back Service on 1300 659 467 and Kids Helpline on 1800 55 1800 (for young people aged 5 to 25). More information is available at Beyond Blue.org.au and lifeline.org.au.
Embrace Multicultural Mental Health supports people from culturally and linguistically diverse backgrounds.