Queensland could reopen its border to all of NSW on October 6 if health authorities are able to trace how every new COVID-19 case is acquired from now until then.
Queensland Chief Health Officer Jeannette Young said there had been no new COVID-19 cases north of Sydney "for quite a while", and NSW had not had any new community transmission cases since September 8.
She said NSW would have to record 28 days straight without a coronavirus case where the source of infection was a mystery, and that trigger was unlikely to change at the September border review.
Tuesday marked 14 days since the last case of untraceable SARS-CoV-2, the virus that causes COVID-19, was detected in NSW.The decision on reopening the border to all of NSW might not be made until the end of October, even if the target 28 days were reached on October 6.
A spokeswoman for Health Minster Steven Miles said the government would consider sewage testing and likely would want to wait to see how the extension of the border bubble affected case numbers in Queensland.
The secretary of Victoria's jobs department says a private security company's commitment to employ recently retrenched workers did not play a role in them being a preferred provider of guards at the state's quarantine hotels.
Unified Security, an Indigenous-owned company, was asked to provide 1754 guards over the course of the program, despite not being a previously approved government company. The inquiry has previously heard the vast majority of those 1754 were subcontractors. Wilson Security, an approved
company, comparatively provided 650.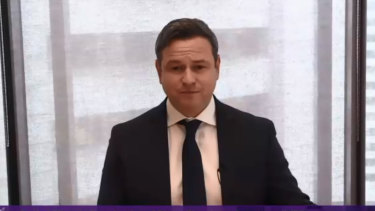 Simon Phemister, secretary of the Department of Jobs, Precincts and Regions, has told the inquiry that in his mind, Unified "employing the unemployed" was "never a consideration that I put into the mix".
Mr Phemister denied that personal rapport between bureaucrats from his department and Unified Security played a role in them being the preferred company.
Instead, he said, early feedback from jobs department officials on the ground was that Unified was superior in terms of cleanliness of shared spaces and enabling the check-in process of new guests.
Unified also charged the highest hourly rate of $49.95 in the day, compared to Wilson's $45.21 and MSS Security's $44.25.
Mr Phemister said the cost of each company was not a consideration once they had been contracted by the government – the primary emphasis was placed on qualitative evidence of how each company was performing.
Rachel Ellyard, the lawyer grilling Mr Phemister on behalf of the inquiry, has now moved to asking about the role of jobs department officials inside hotels.
Mr Phemister confirmed they played no role in the ill-fated Rydges on Swanston hotel, where infection leaks were responsible for about 90 per cent of Victoria's second wave.
NSW Premier Gladys Berejiklian has said she is feeling "more optimistic every day" about reopening the Victorian border, but will not do so until the effect of eased restrictions in Melbourne is assessed.
The Premier said fewer restrictions and an expanding of the state's border zone had made things easier for residents in southern NSW and northern Victoria, but she could not foresee the NSW Police operation on the border ending before it was demonstrated Melbourne's second wave was under control.
"We do want to see what happens in Melbourne after restrictions are eased, and that will determine how quickly we can bring down that border," she said.
Asked if NSW would pursue asymptomatic testing in order to increase the state's rates, Ms Berejiklian said this was very unlikely.
"The health advice I've received about asymptomatic testing – and it was good advice – is that it doesn't really work," she said, adding that asymptomatic cases did, however, demonstrate the importance of self-isolating if directed to by NSW Health.
"If you are deemed to be a close contact [of an existing case] but you don't have symptoms, you still need to get tested and stay home," she said.
NSW Premier Gladys Berejiklian has welcomed border reopenings in South Australia and Queensland, encouraging her state's northern neighbours to "go further" and reopen to the whole of NSW.
Earlier this morning, it was announced South Australia would reopen to NSW from Thursday and Queensland would be extending its border zone to include five additional areas in northern NSW.
Speaking on her 50th birthday, Ms Berejiklian said Queensland's changes would mean "less stress" for regional NSW communities.
"I welcome that and obviously encourage Queensland to go further, given where NSW is in the pandemic," she said, later saying "it is time for the Queensland government to bring down the whole border".
"We are always only a few days from another outbreak but so is Queensland," she said, stressing that people want to plan for the school holidays and Christmas and the border closure had made things "unnecessarily" difficult for regional residents.
NSW recorded two new coronavirus cases on Tuesday, both in hotel quarantine. It also recorded a second consecutive day of daily testing figures below 8000, prompting NSW Health to plea for people to come forward for testing, even with the mildest symptoms.
The Premier said lower testing rates were "still the result of weekend testing", noting "we know the numbers tend to go up on a Wednesday".
However, she added her voice to the testing push: "Please go the day you have the symptoms, and please know that, because of pandemic leave, you do not need to be stressed about not going to work … the last time we were complacent the Victorian situation came up."
Payroll jobs fell 0.4 per cent in the fortnight to September 5, data from the Australian Bureau of Statistics show, casting doubt on the strength of the national employment market.
The ABS found the drop was due to a 0.8 per cent drop in Victoria which was going through its coronavirus lockdown.
But payroll numbers also fell by 0.3 per cent in both NSW and Queensland while in the ACT they dropped by 0.9 per cent.
In the Northern Territory, which last week's employment data showed a huge fall in the jobless rate, payroll jobs fell by 0.8 per cent.
There are continuing signs of recovery elsewhere. Payroll jobs were up by 0.2 per cent in Tasmania and South Australia while they improved by 0.1 per cent in WA.
Since mid-March, payroll are down by 4.5 per cent nationally but by 8.3 per cent in Victoria.
The strongest recoveries have been in WA, which has recovered almost 89 per cent of its payroll jobs, the NT and SA.
Men bore the brunt in the drop over the fortnight to September 5, with their payroll jobs down by 0.5 per cent. Females suffered a 0.2 per cent fall.
Agriculture, hospitality and arts and recreation jobs suffered the biggest fall in the period.
Agriculture payroll jobs alone fell by 1.5 per cent to be 9.3 per cent lower since mid-March.
Hospitality jobs are down by 21.9 per cent while those in the arts and recreation sector are down by 14.1 per cent.
But retail jobs are now 3 per cent higher than mid-March, those in public administration and safety are up by 2.4 per cent while those in health care and social assistance are up by 1.2 per cent.
The morning continues to barrel along at a mighty pace. We're just about to hear from NSW Premier Gladys Berejiklian for an update on the COVID-19 as her state records just two new cases today, both in hotel quarantine.
Watch along below:
You can also continue watching the Victorian inquiry into the hotel quarantine program which is resuming at 11.45am also.
The legal challenge filed against the Andrews government's curfew kicked off again this morning with lawyers facing off over evidence that will be presented in court and an application to have the case heard as quickly as possible.
With the curfew restrictions due to expire on October 11, Supreme Court judge Tim Ginnane said last week that the case is expected to canvass "very important" human rights issues and the manner in which executive government works.
Restaurant owner Michelle Loielo, a member of the Liberal Party, filed the Supreme Court writ last Tuesday.
Associate Professor Michelle Giles was named as the defendant in her capacity as Deputy Public Health Commander and is likely to take the stand when the matter goes to trial to defend the decision to extend the curfew.
The case has garnered significant political and legal attention because it is inviting the court to determine the scope, and functioning, of the Victorian government's executive authority and power.
Lawyers for Ms Loielo want the case sent immediately to the Court of Appeal because it could, if successful, render the curfew invalid.
Barrister for Ms Loielo, Dr Jason Harkess, said the case is grounded in the central question of "what was going on in the mind of the defendant" Associate Professor Michelle Giles.
They argue that the decision was irrational, unreasonable and disproportionate.
The issue turned on "what was [Ms Giles] thinking about, what ought she be thinking about, when she made that decision," Dr Harkess said.
Barrister for the Victorian government Emrys Kevapil, questioned the relevance of news articles included in the brief of evidence by Ms Loeilo's lawyers, including an article titled 'A Doctors' Open
Letter to Daniel Andrews' published by Quadrant Online.
The case continues.
A Victorian jobs department official wrote to colleagues that they didn't want "rogue" security guards "prowling the corridors" of quarantine hotels, while another pointed out private security was a "cowboy industry".
Text messages between Simon Phemister and his colleagues at the jobs department in the hours before the program was set up show their considerations in hiring security companies to provide guards at hotels.
One colleague wrote: "Gotta be careful with a lot of security companies. Heaps of cash work" before another replied "Cowboy industry".
A third official then wrote: "Needs to be reputable. Don't want … rogue … prowling the corridors". The two ellipses mark where words were redacted in the messages.
He said criteria for finding security companies included a proven track record working with the government, being able to provide their own personal protective equipment because of Victoria's shortage at that time and being able to scale up significantly.
Unified Security was then selected despite one jobs department bureaucrat describing them as "good but small". The Age has revealed Unified Security, as an Indigenous-owned company, was hired in part due to social inclusivity goals.
Unified Security was also not a company approved by Trades Hall at the time, but Mr Phemister said he was told Unified performed well in the first two days of the program.
"That led me to the conclusion that given it wouldn't disrupt the flow of the operation, we were best placed to continue with existing security providers," Mr Phemister said.
The secretary of Victoria's jobs department told the hotel quarantine inquiry that while he was told to find private security companies, he does not know who made the decision to use private security in hotels.
Simon Phemister did not attend an important meeting between government agencies at the state control centre at 4.30pm on March 27 – about 30 hours before the program began – but said he knew it was attended by high-ranking officials such as Emergency Management Commissioner Andrew Crisp.
One of Mr Phemister's delegates told him after the meeting that it would be the jobs department's role to contract private security companies.
"I don't know who made the decision," Mr Phemister said. "All I know is we were commissioned to procure private security in that 4.30 meeting … and we immediately commenced that procurement task."
The next morning, on March 28, Mr Phemister said it became clear the role of lead agency was going to be shifted away from his department.
"By that time the complexity of the process had revealed itself and it made perfectly sense and it was unremarkable that professionals in the state control centre and our colleagues at health had started to step up," he said.
Knowing those emergency management and health experts were taking more responsibility brought a "sense of relief", Mr Phemister said.
NSW recorded just two new cases in the latest 24-hour reporting period, both returned travellers in hotel quarantine.
There were 7616 tests during the reporting period, a low figure for the state and on par with the 7765 in the previous 24 hours.
"We would like to see testing levels above 20,000 as achieved last week," NSW Health's Dr Jeremy McAnulty said.
There have now been more than 2.6 million tests completed in the state.
The last time NSW recorded no local coronavirus cases was on July 3, when no cases at all were recorded. Ominously, this was also the date a Victorian man visited Casula's Crossroads Hotel, sparking NSW's second wave.
NSW has 77 coronavirus patients receiving treatment. Of these, three are in ICU and one is on a ventilator.